Sun Inn remembers 'oldest landlady' Flossie Lane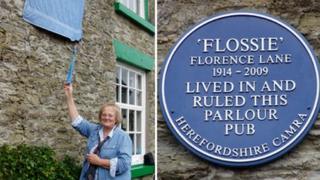 The life of a woman believed to have been the oldest landlady in Britain has been celebrated at her former pub.
Flossie Lane, who died in 2009, ran the Sun Inn, Leintwardine, Herefordshire, for 74 years and was still at its helm at the age of 94.
A plaque marking her "rule" was unveiled at the pub on Saturday.
The pub was bought by customer Gary Seymour and brewer Nick Davis after her death and they pledged to preserve its history.
Mr Seymour first walked into the village pub for a pint about 20 years ago and felt he had entered a time warp as there was no bar and drinkers sat in an old-fashioned living room.
'Flossie sayings'
He said many people turned out for the unveiling to remember the landlady who had been "one of life's big characters".
"Although housebound because she didn't like going outside, she knew everything that was going on in the village," he said.
"She was a sharp as a tack, even when she was pushing 95."
Mr Seymour said Flossie had "quite a sharp tongue" for people who got on her wrong side.
"But she was very kind and very generous and knew everyone," he said.
The plaque was commissioned by Camra (Campaign for Real Ale), which said Miss Lane had been the oldest landlady in the country.
Herefordshire Camra voted the Sun Inn the best pub in the county in 2011 and previously backed a campaign to save the premises.
The plaque was unveiled by Miss Lane's niece, Wendy Lane. It informs pub goers that 'Flossie' Florence Lane "lived in and ruled this parlour pub".
At the event, the band The Scuttlers played a song they had written about her.
And some of Flossie's sayings were read out from a book compiling some of the gems she uttered.