Hagley's' Hornby' railway footbridge restored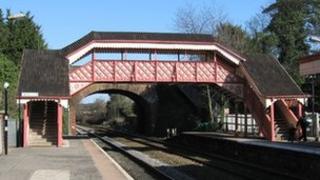 A historic Worcestershire footbridge that was the inspiration for a model railway kit has been restored.
The grade II listed footbridge at Hagley was built in 1884 by the Great Western Railway (GWR).
Model maker Hornby used it as the basis for one of its construction kits.
Patrick Cawley, from Network Rail said: "It's amazing to think that people the world over 'own' a little piece of Hagley in the form of a footbridge on their railway layout."
Network Rail said parts of the ornate metalwork that needed replacing were specially cast to match and blend in with the original.
The footbridge has also been repainted in the original colour scheme used by the GWR.
Simon Kohler, at Hornby, said: "As a model it was one of our star items and with the actual footbridge being restored, perhaps it is time that a suitable model once more became part of the Hornby range."
The station buildings and platform canopy have also been completely repainted.
The overall cost of the work was almost £50,000, Network Rail said.