Singer PJ Proby cleared of benefit fraud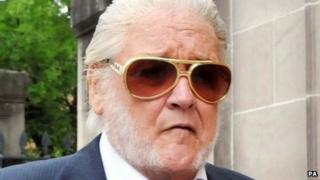 Pop singer PJ Proby has been cleared of benefit fraud after the prosecution dropped its case following the discovery of new evidence.
The 73-year-old performer, of Twyford, near Evesham in Worcestershire, was acquitted of nine counts after prosecutors found documents relating to the case in an office in Doncaster.
He had yet to give evidence in his defence at Worcester Crown Court.
The 1960s star was found not guilty on the directions of Judge John Cavell.
The Department for Work and Pensions (DWP) had alleged PJ Proby cheated the benefits system out of more than £47,000 after informing the authorities he had just £5 in his bank account.
Prosecutor Nicholas Smith told the court the DWP had decided to offer no evidence against the singer-songwriter after reviewing the newly-discovered material.
Denied charges
During the trial, Mr Smith claimed the singer failed to declare earnings from concert tours, savings and royalties while receiving income support, pension credit, council tax benefit and housing benefit.
PJ Proby, who had hits in the early 1960s with songs such as Hold Me and Together, had denied nine charges relating to benefit payments in the period between November 2002 and March 2008.
He denied two counts of cheating the public revenue, four of failing to notify the authorities of a change of circumstances and three of making false representations.
The American-born star, who stood trial under his real name, James Marcus Smith, smiled in the dock as he was found not guilty nine days into a scheduled three-week trial.
Outside court he echoed the thoughts of former US president John Adams, who described the site of the 1651 Battle of Worcester as "holy ground" following a visit to the city in the 18th Century.
In a statement read by his solicitor, Chris Hilton, PJ Proby said: "For the last four years I have lived in fear of becoming homeless - because my housing benefit was cut off - and of being wrongly sent to prison for a crime I never committed.
"In 1786 another American, John Adams... said that Worcester was the ground where liberty was fought for.
"He said that this was holy ground - in 2012 it still is."
Thanking his legal team, PJ Proby added: "I am very happy justice has finally been done. I was not dishonest when I claimed benefits, which I needed in order to live.
"I only performed to give pleasure and not to make money."