New College pupils help with Worcester Olympic musical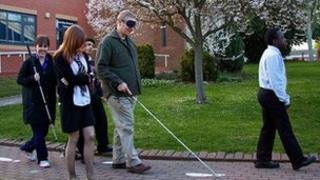 Pupils from the college for the blind in Worcester have inspired the writer of a musical event to be premiered when the Olympic torch arrives in the city.
Raising The Sky centres on an imaginary meeting between New College students and the composer Edward Elgar.
Playwright Chris Baldwin went on a tour in a blindfold with pupils to learn how Worcester sounds to them.
"They have been able to give me access to a world which is ever-present, but which I don't live in," he said.
Victoria, a year 12 student, said working on the project had made her think about how she used her senses.
"We talked to him about how we experience the world through sound and how this helps us to 'see' our environment.
"It was only through talking to Chris when he was under blindfold, that I realised how instinctive this is for me," she said.
'So lucky'
Mr Baldwin said he learned that sound was crucial to the pupils' experience of Worcester, just as it was to Elgar.
"One New College girl told me how she was able to tell what trees were around her by listening to the birds singing.
"She knew which birds perched in which trees, and she could tell how high the birds were and so how high the trees were," he said
Raising The Sky will be the centrepiece of the evening event at Worcestershire County Cricket Club's ground on 24 May, when the Olympic torch stays overnight in Worcester.
It will feature music by BAFTA-nominated composer Nick Bicât.
Students from New College will take part in the performance alongside a 1,000-strong community choir of local singers.
Chessie, a year 11 student, said: "I'm so excited about the Olympic flame coming to Worcester and the fact that we are able to be part of this huge ceremony.
"I feel so lucky to be involved, and I'm really looking forward to it."
New College is a specialist residential school for young people aged 11 to 19 who are blind or partially sighted.