Abbey Bridge in Evesham to shut for 10 weeks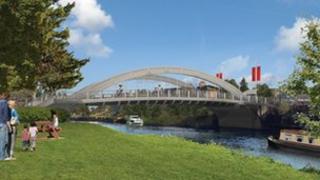 A bridge in Worcestershire being upgraded in a £12.6m scheme will be closed to traffic for 10 weeks instead of 12 months, a council has said.
Abbey Bridge is the main route in and out of Evesham.
The bridge is expected to be closed during June, July and August 2013, the county council said.
Pedestrians, motorcyclists and cyclists will still be able to use the link over the River Avon. Work is expected to start in October and take a year.
People can give their views until 20 April on two possible traffic management options during the 10-week closure.
One option includes having temporary two-way traffic on Mill Street and the other involves using a temporary one-way system through Bridge Street.
Residents and traders will be able to look at designs of the new bridge, find out more about the scheme and give opinions about traffic management at two public events.
One event will take place at Evesham Town Hall on 22 February between 16:00 and 19:00 GMT. The other has been planned for the Riverside Shopping Centre on 3 March between 11:00 and 15:00 GMT.