Drake rescues duck in Worcester from plastic beer can holder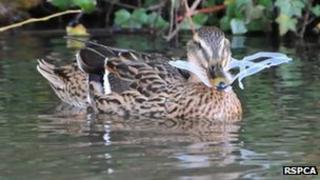 A drake in Worcestershire has come to the rescue of a distressed duck whose head was trapped in a plastic beer can holder for more than a month.
Concerned members of the public first reported its plight on 19 January.
Inspectors from the RSPCA tried to help, but she evaded capture and concerns grew for her safety.
But, while the birds were being fed at Gheluvelt Park in Worcester at the weekend, a fellow mallard stood on the plastic, and pulled it off.
RSPCA spokesman Judith Haw said: "We are delighted that the duck is now free from the litter, however the duck's distress and discomfort was completely unnecessary.
"We hope people will learn from this incident that a casually discarded piece of litter can have devastating consequences for wildlife."
The charity has asked people to cut open the loops on plastic bindings which hold beer and soft drinks cans together and dispose of them in a rubbish bin.