Betty Yates murder: Descriptions of two men released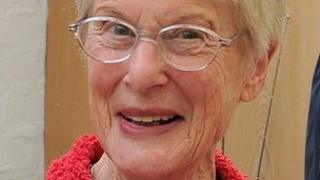 Officers investigating the murder of Worcestershire pensioner Betty Yates have issued descriptions of two men.
The men were seen separately on 2 January between Riverside Caravan Park and the cottage where the 77-year-old's body was found two days later.
Both are white, of medium build and have brown hair. The sightings were phoned into police following an appeal by Mrs Yates' family last week.
The retired teacher was stabbed and beaten with her walking stick.
One of the men was spotted by a couple of walkers in woodland near Painsmore Cottage. He is believed to have been in his late 20s to early 30s and 5ft 10in (1.78m) tall.
He was wearing dark trousers and a "baggy, cherry red, waterproof style coat with a hood which was down", according to police.
Reward offered
The other man was spotted by another couple walking on a track away from the riverside, close to a railway line. He was described as being in his mid to late 40s, pale faced, clean shaven and having short hair.
The man was dressed in a plain, light-coloured, three-quarter length coat with buttons and was also sporting dark trousers and shoes.
Det Ch Insp Neil Jamieson, from West Mercia Police, said: "These are new sightings of people who were in the relevant area on Bank Holiday Monday who have not yet come forward following our appeals and we need to trace them if only to eliminate them from our inquiries.
"I would ask them to get in touch with us or anyone who recognises them from these descriptions to call us."
A man was released on bail last week after being arrested in connection with the murder.
Crimestoppers has offered a £10,000 reward for information leading to the conviction of the killer.