Cinderella Sports Ground in Worcester rescue plan proposed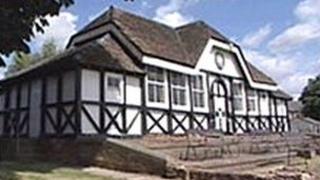 A playing field which was the home of Worcestershire County Cricket Club until 1899 could be saved from housing development and used to create a new sports venue.
Worcester City Council has the option of a 25-year lease on the Cinderella Sports Ground at a token rent.
Reinstating the pitch and redeveloping the pavilion at the St John's ground could cost £185,000, the council said.
It said it needs to win a bid for cash from Sport England to save the ground.
The council, which would contribute £65,000 towards the project, said the proposal depends on a £50,000 funding bid from Sport England.
'Thriving venue'
Councillor Francis Lankester said: "The Cinderella Sports Ground was at the heart of Worcester's sporting traditions for over 100 years and was well used by many local teams.
"If we can secure external funding, in addition to our own contribution, and a partner to undertake the management of the facilities, this could be a thriving sporting venue once again."
The site was part of the city's Kay & Co complex and is now owned by the Arndale Property Company.
The council said the company had wanted to demolish the pavilion on the site in March 2006 but a conservation order was placed on the building after sparrows were found nesting in it.
A meeting to decide the future of the ground is being held by the council on Tuesday, 14 February.