Herefordshire art contest for 2012's 'big celebrations'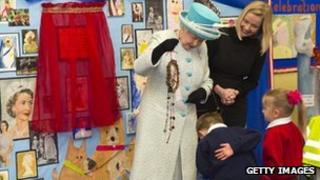 Residents in Herefordshire have been invited to take part in an arts competition to mark the "big celebrations" of 2012.
The art works can be on the theme of either the Queen's Jubilee or the Olympics and Paralympic Games.
The Raising Our Game Partnership, which has organised the art contest, said winning pictures could be displayed in prominent places and at events.
The competition is open to residents and people studying in Herefordshire.
Herefordshire Council, which is part of the partnership, said images marking the Olympics and Paralympics should be based on one or more of the Games' values which are excellence, friendship, respect, courage, determination, quality and inspiration.
"They can reflect any number of topics such as community spirit, culture, sport, Herefordshire icons or the Olympic torch as it passes through Herefordshire," the council said.
The torch will pass through the county on 24 May on its way to London.
Art entries must be flat works such as paintings, drawings, photographs or computer-generated images on A3 or A4 paper or canvas.
Olywn Barnett, Herefordshire Council chairman, said 2012 was going to be one of "big celebrations".
"I hope as many residents as possible will enter this competition so their creativity can be showcased and the rest of the country can see what talented people we have here," she said.
"I would particularly like to encourage schools to get involved as celebrating 60 years of the Queen's reign and exploring the Olympic and Paralympic values can teach pupils a lot about our own society, as well as all the other nations who will be taking part."
The competition will close at 1600 BST on 12 April.