Severn Valley Railway celebrates 150th anniversary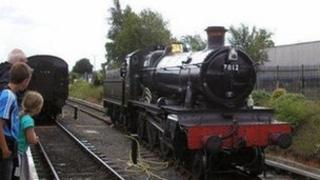 The Severn Valley Railway is celebrating 150 years since the first train left Worcestershire for Shrewsbury.
Kidderminster Railway Museum is showing films to mark the anniversary.
David Postle, from the museum, said: "A lot of the railways have disappeared - there was a big cull in the 1960s - so it is important because not many that were closed have reopened."
He said some 250,000 passengers still used the SVR each year.
'Preserved by enthusiasts'
The SVR line was built between 1858 and 1862, and ran for 40 miles linking Hartlebury, near Droitwich in Worcestershire with Shrewsbury in Shropshire.
Mr Postle said that on January, 31 1862, a special train ran to mark the formal opening of the railway and public service on the line started the following day.
He said: "It has been preserved by a group of volunteers and enthusiasts who have rebuilt it into what it is today - a tourist line from Kidderminster to Bridgnorth.
"It's a fantastic achievement that the railway's still going."