Basil D'Oliveira memorial held at Worcester Cathedral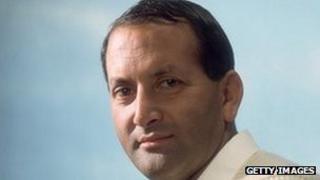 A memorial service for the Worcestershire and England cricketer Basil D'Oliveira has been held at Worcester Cathedral.
The all-rounder was banned from playing for his adopted country in South Africa in 1968 because he was not white.
He played county cricket for Worcestershire between 1964 and 1980 and represented England in 44 Tests, scoring 2,484 runs at an average of 40.
Sir Michael Parkinson gave one of the eulogies at the service.
He described D'Oliveira as "a local legend ignored by the white masters of South African cricket".
He said: "He (D'Oliveira) brought the walls of apartheid tumbling down. I am proud to have known him."
Beresford Williams, the president of the Western Province Cricket Union in South Africa, also paid tribute.
Mr Williams said: "He chose to liberate himself, to free himself from the inequalities and injustices of apartheid."
'Wonderful cricketer'
D'Oliveira left South Africa in 1960 because of a lack of opportunities for non-white players.
In 1968 he was picked to tour South Africa with England but the ruling National Party refused to accept him as part of the tour party.
The tour was cancelled in what was the beginning of South Africa's sporting isolation, which was to last until the 1990s.
D'Oliveira died in November at the age of 80.
Those attending the packed service included Mervyn King, governor of the Bank of England, and Tom Graveney, the former England batsman who played for Worcestershire between 1961 and 1970.
Mr Graveney said: "He was a wonderful cricketer and a wonderful bloke.
"One of the best things I did for Worcester was get him to come here.
"He was a gentleman and really played the game full of the right spirit and he was my best pal as well."
Tolerance and inclusion
MP Peter Hain, who campaigned against apartheid as a teenager, said: "Basil D'Oliveira became a powerful symbol and servant of the anti-apartheid struggle because of the outrage at the searing injustice of his predicament."
Speaking before the service his son Damian said his father would have wanted the memorial to be a celebration of his life.
He said: "Although he wasn't born here (in Worcester) I would say he made it his first home.
"He wouldn't go anywhere without his Worcester blazer."
He said he thought his father would prefer to be remembered as a sportsman rather than for the problems he faced during apartheid.
He said: "The pitch was where he did his talking. He wasn't a politician so he did all his talking with a bat and a ball."
He added: "He achieved so much, anyone that passes away and has achieved what he's done would be very proud."
Avi Lasarow, Honorary Consul for the Republic of South Africa to the Midlands, also paid tribute to the life and work of the cricketer.
He said: "On behalf of the South African High Commission, and of the thousands of South Africans living and working in the UK, I am honoured to have the opportunity to pay respect to the life and work of Basil D'Oliveira, and the huge contribution and sacrifices he made to champion the causes of tolerance and inclusion in South Africa and the UK."