Whitney-on-Wye toll bridge gets new owners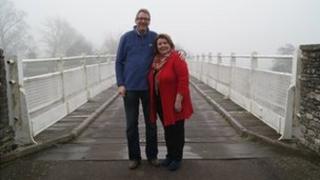 A Herefordshire toll bridge that offers a tax-free income has been bought by two entrepreneurs.
The Whitney-on-Wye bridge was built in 1797 by an Act of Parliament that also exempts the toll income from tax.
Maggie Taylor, one of the new owners, said: "Our plans are to modernise the toll cottage, improve the visitor facilities and upgrade systems."
The firm who sold the bridge estimated that the owner can expect to make £2,000-a-week from the 80p toll.
The Department of Transport has to approve any rise in tolls - the last review was in 2009, when they were increased from 50p.
Paying the 80p toll allows drivers to cross the bridge for the whole of that day.
Grahame Penny and Maggie Taylor bought the bridge after selling their training business.
The new owners will be responsible for maintaining the bridge, which was virtually rebuilt in 1993.
The Whitney-on-Wye Toll Bridge lies at the junction of the A438 Hereford to Brecon Road and the B4350 to Hay-on-Wye.