Lady Thatcher's secretary: Iron Lady film 'unrealistic'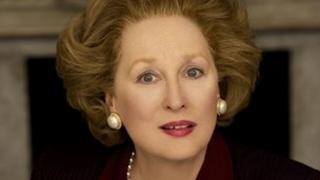 Lady Thatcher's private secretary has said the domestic scenes in the film about the former prime minister's life bear little resemblance to reality.
Cynthia Crawford, from Worcester, who worked for Lady Thatcher since 1978, said some scenes in The Iron Lady were "totally unrelated to the truth".
Film company Pathe Productions Ltd declined to comment.
The film depicts Meryl Streep, named best actress at the Golden Globe awards, as Lady Thatcher with dementia.
'Absolutely inconceivable'
In an interview with BBC Hereford and Worcester, Ms Crawford said she had been unsure whether to watch the film or not but decided she could not discuss it fairly with her family and friends without seeing it for herself.
She said: "I can assure you that the domestic scenes, and in fact all the domestic scenes in the film, are just absolutely inconceivable, they're just not right and totally unrelated to the truth."
She referred to one of the opening scenes of the film showing Lady Thatcher buying a pint of milk on her own as an example.
Ms Crawford, who visits Lady Thatcher every other week, said: "She apparently had slipped her detection people - it was quite impossible and unrelated to anything, it was totally unrealistic."
Referring to a part of the film where Lady Thatcher saw herself on TV and did not recognise herself, Ms Crawford said "that would never have happened".
She said: "Never, ever - I've never known her to read anything about herself or watch a programme or interview about herself because she refused to."
Ms Crawford also said the scene where Lady Thatcher packed up the clothes of her late husband, Sir Dennis, also would not have happened.
She said she felt that the political aspect of the former prime minister's career, including the Falklands and the miners' strikes, were "done well".
'Beyond the boundaries'
Ms Crawford said: "But there are plenty of videos out there that the producers could have watched to get that right and I thought those were done well but the dementia scenes were not.
"The dementia scenes are disproportionate to her life and her business and her being prime minister, I think that's really very sad - Lady Thatcher's policy was you look forward you don't look back.
"If they had made the film about the 11-and-a-half years of her life as prime minister it could have been absolutely fantastic."
Ms Crawford has praised Streep for her performance in the film and said she hoped she won an Oscar.
She said Streep captured Lady Thatcher's mannerisms and voice - but she "hadn't quite got the walk".
Ms Crawford concluded: "I think that to produce this in her [Lady Thatcher's] lifetime is beyond the boundaries and very cruel, but it is only a film which will soon be forgotten.
"Her name and her legacy will forever be mentioned in the history of Great Britain."