London 2012 torchbearer, 84, in charity bid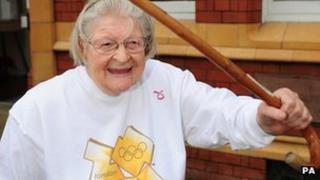 An 84-year-old woman who is among those chosen to carry the Olympic torch next summer is aiming to raise £20,120 for charity while training for the event.
Moira Starkey, from Storridge, in Herefordshire, was invited to be one of the torchbearers in recognition of previous fundraising achievements.
In the past, she has raised more than £10,500 for a breast cancer charity.
Part of her fundraising involved walking around her village hall 2,000 times.
Now she wants to get in shape for the relay, when she will be one of the 8,000 torchbearers, by completing more laps of the hall while raising more money for breast cancer support charity The Haven.
Miss Starkey, who walks with two sticks, said: "I will be working hard to make sure I am fit as a fiddle, so I urge the public to dig deep and donate to this great cause."
She began fundraising in 2004 when a close friend was diagnosed with breast cancer and visited The Haven's centre in Hereford.
'Shining example'
Miss Starkey started fundraising by making homemade jams to sell. Since then she has arranged pancake races, coffee mornings, music nights and opened her garden to paying visitors.
She said: "I am thrilled to be asked to be a torchbearer and delighted to be a part of such an important event.
"I hope by carrying the torch this will help raise awareness of The Haven and the important services it offers to people with breast cancer.
"I hope it also encourages other people to get involved with fundraising and see what they can achieve."
Miss Starkey's nomination for a torchbearer place was sent to the London Organising Committee of the Olympic and Paralympic Games (Locog) by Frankie Devereux, manager of The Haven centre.
She said: "Locog were looking for inspirational people who have achieved a personal best or contributed to the local community.
"Moira is a shining example of all these qualities, making an incredibly important contribution to The Haven in Hereford, whilst achieving great feats."
The Olympic torch relay starts at Lands End on 19 May and will cover some 8,000 miles as it travels around the UK to the opening ceremony of the Olympic Games in London on 27 July.
The route in Herefordshire will see runners and walkers carrying the torch through Ledbury, Bartestree, Lugwardine, Hereford and Leominster on 24 May.