Acorns Hospice appeal after donations drop by 20%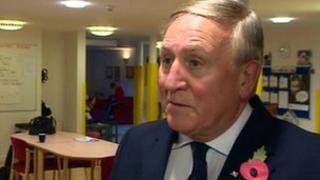 A children's charity is launching its biggest appeal to date after a 20% fall in donations.
The Acorns Children's Hospice, based in Worcester, Walsall in the West Midlands and Birmingham, helps children with life-limiting conditions.
Chief executive David Strudley said all charities were facing "challenging times" because of the economic climate.
He said they hope to raise £19m by December 2013 when the charity marks its 25th anniversary.
The charity has seen donations drop by £3m a year over the last three years.
Premiership support
"We know how challenging it is," Mr Strudley said.
"Sister hospices and other organisations have really faced dreadful challenges as have we but our families, they face the greatest challenge of all."
In October the charity, which also raises about £70,000 a year through its lottery, expressed concerns about the impact the new Health Lottery would have on local fundraising.
The Health Lottery, run by Northern & Shell media, the firm that owns Express newspapers and Channel 5, donates 20.34p per £1 ticket to charity, compared with 28p for every National Lottery ticket.
It offers a top prize of up to £100,000 and, as a society lottery, the draws are exempt from the 12p in duty paid on each pound of National Lottery sales.
Aston Villa, who have supported the charity since 2006, arranged for players to wear the Acorns logo on their shirts for free throughout the 2008/9 season.