Basil D'Oliveira memorial service in South Africa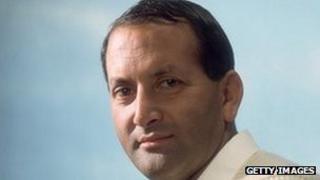 A memorial service for the Worcestershire and England cricketer Basil D'Oliveira has been held in South Africa.
The service was held at St George's Cathedral in Cape Town, the city where D'Oliveira grew up. He moved to England in the 1960s.
The all-rounder was banned from playing for his adopted country in South Africa in 1968 because he was not white.
Candles will be lit at the start of the service by young cricketers.
The Dean of the cathedral, the Very Reverend Michael Weeder, said: "They represent the new generation that have been beneficiaries of the talent and commitment that Basil expressed."
He said the service would also be attended by representatives of the South African government and past and present cricketers.
D'Oliveira played 44 tests for England after leaving South Africa in 1960 because of a lack of opportunity for non-white players.
In 1968 he was picked to tour South Africa with England but the ruling National Party refused to accept him as part of the tour party.
The tour was cancelled in what was the beginning of South Africa's sporting isolation, which was to last until the 1990s.
D'Oliveira died in November at the age of 80.