Worcestershire Medal Services wins £7m jubilee contract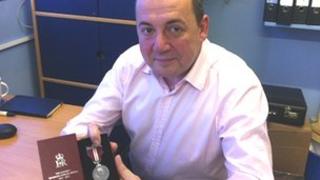 A Worcestershire company has beaten off international competition to produce the official medals to mark the Queen's Diamond Jubilee.
Bromsgrove-based Worcestershire Medal Services (WMS) has been awarded a £7m contract.
Some 450,000 medals will be made in Birmingham's Jewellery Quarter and mounted at the Bromsgrove factory.
They will be officially launched on 6 February, the anniversary of the Queen's accession.
Company owner Phil McDermott said: "This is real David and Goliath stuff, it's the biggest medals contract that has been put out by the government since the end of the First World War."
The contract was tendered across Europe, with the company successfully beating off competition from the Royal Mint among others.
Medal enthusiast Mr McDermott said he had started WMS in 1988 with just £120.
He said: "If you'd told me in 1988 where we'd be today, winning this sort of contract, I would never have believed you.
"These medals will be worn by everyone from the Duke of Edinburgh down to the youngest soldier in the Army."
They will be worn by members of the armed forces, emergency services and prison staff, among others.
'Work together'
WMS, which owns the Gladman and Norman factory in Birmingham, joined forces with two other Jewellery Quarter companies - Toye, Kenning and Spencer, and Thomas Fattorini - to compete for the business.
"We thought rather than fight against one another it would be better to try and tender for work together," Mr McDermott said.
Mr McDermott said the contract would also benefit the wider regional economy.
"The ribbon is woven in Bedworth and we've bought metal in from Northampton. The boxes are also made in the Midlands," he said.
All three companies involved hold Royal warrants and it is not the first time WMS has produced state medals.
The Bromsgrove business recently produced the official medals for coronations in Tonga and Bhutan.