Worcester's Muslim community in anti-terrorism exercise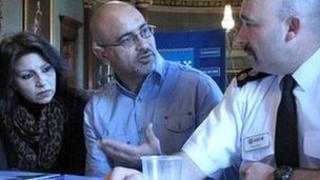 Members of the Muslim community have taken part a counter-terrorism exercise in Worcester - the first in the city.
West Mercia Police said it was designed to help Muslim people and the authorities understand decisions made around terrorism operations.
The force said it had acted because the main threat comes from people acting in the name of Islam.
One Muslim businessman said he backed the exercise as part of enhancing relations with the police.
Mohammed Manir from Worcester said: "We need to focus on improving the communications between the police and Muslim communities and making sure that if individuals see or hear something they do what they can to prevent it.
"And we need to look at the big picture and the effect British foreign affairs has on the situation."
The exercise involved a fictitious investigation with Muslim people taking on the role of the police to decide what action they would take.
Supt Steve Cullen said: "Muslim communities are disproportionately affected by counter-terrorist operations."
Shabaz Ali, 17, said: "It's changed my views about how they try to deal with the people and communities."