Strikes hit Herefordshire and Worcestershire schools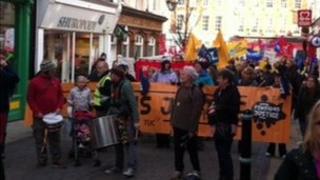 Unions have said at least 1,500 of the 1,900 teachers in Worcestershire were on strike over pensions.
Worcestershire County Council said 192 schools were closed or partially closed, with 50 staying open.
In Herefordshire the council website listed 51 schools as closed or partially closed, out of a total of 97.
A complete list of the schools affected are on the Worcestershire County Council and the Herefordshire Council websites.
Hundreds at rally
Bryony Baynes, striking head teacher at Ashton-Under-Hill First School near Evesham, said: "I worry very much, as do a lot of other heads, as do our unions, that these changes will discourage young people from entering the profession."
Mark Garnier, Conservative MP for Wyre Forest, said: "People are having to make childcare arrangements, they're having to interrupt their working day.
"People are struggling in the private sector and the public sector unions are letting them down."
Councils have said bin collections might be disrupted during the strike.
They said the exact impact the strikes would have was unclear but updates would be posted on their websites.
A rally took place in Hereford's High Town where about 200 workers gathered for half an hour of speeches.
In Worcester, about 600 people took part in a march ahead of a rally organised by Worcester Trades Union Council in the city.
Steve Martin, chair of Worcester Trades Union Council, said about 70% of public sector workers in Worcester were on strike.
Jan Baxter, branch secretary of the PCS union, said: "The important thing today is that our members would rather not strike but their employers are not making them any more offers.
"The strike has had to go ahead."
Adrian Gregson, branch secretary from Unison on a picket line at County Hall in Worcester, said: "This is no way to run an economy - if you want to put something back on track you don't take money away from people."
Worcester pharmacist Dennis Ogle, 72, said the strikers were being "naive" if they think they can retire at 60.
He said: "We are going to have to work long past what our parents assumed was a working life.
"We're not going to finish at 65, I think it's going up to 68, but I can see before I die that it will be up as high as maybe 75."
'Minimal disruption'
All councils, including Worcestershire County Council, were advising people to check their websites for information on disruption to services.
Malvern Hills District Council and Wychavon District Council both said disruption to their overall services would be minimal and advised anyone who normally puts their bins out on a Wednesday to do so as usual.
Worcester City Council said bin collections were going ahead but the service was likely to be slower than normal.
A spokesman for Worcester City Council said it had enough volunteers and other staff to be able to run bin collections and the council would run a "catch-up collection" on Saturday.
Both Redditch Borough Council and Bromsgrove District Council said they were expecting some disruption to their customer service centres and bin collections.
Herefordshire Council said its bin collection and recycling service was running as normal.