Teme Bridge in Tenbury Wells to open three months early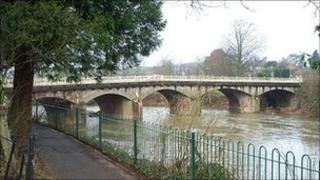 Refurbishment work on a historic bridge will be completed three months sooner than first anticipated, according to Worcestershire County Council.
The Teme Bridge in Tenbury Wells will close from 9 January until 16 March.
The council awarded high points to the contractors who could do the work in the shortest time.
Sarah Thompson, who chairs Tenbury Chamber of Trade, said: "It's really good news for the town as a whole, 10 weeks is much more workable."
"Obviously there would have been major problems if it was closed until May," she said.
Leaflets are being distributed within a 50-mile radius of the town to inform shoppers about diversions and parking information.
Free parking
During the work, the bridge will remain open for pedestrians, those with mobility scooters, cyclists and motorcyclists.
The county council and Malvern Hills District Council have also announced that a £50,000 grant, which includes a contribution to lower car parking charges during the bridge closure, will be made available to local businesses to spend as they see fit.
A special shuttle bus service has been arranged to run Monday to Saturday throughout the duration of works, linking the bridge and the Bromyard Road business park.
Temporary, free and unlimited car parking for 55 cars will be provided on the Burford side of the river for the duration of the bridge closure.
Similarly arrangements have been made to use the old market land for both free and unlimited parking and a turning facility for delivery vehicles.
Teme Bridge is a designated historic monument and parts of it date back to medieval times.