Hartlebury waste incinerator public inquiry begins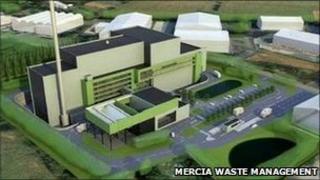 A public inquiry into a proposed waste incinerator has opened in Worcestershire.
Worcestershire County Council approved plans for the 200,000-tonne energy from waste facility near Hartlebury in March.
The site is on green belt land and was called in by the Secretary of State for Communities and Local Government Eric Pickles.
The inquiry at County Hall, Worcester, is expected to last eight days.
Government planning inspector Terrence Kemmann-Lane will chair the hearing.
He will hear representation from the county council, the applicant and objectors before making his recommendations to Mr Pickles.
If the minister approves the scheme, the company said work would start in autumn 2012 and the facility would be finished in 2015.