Homeless and looking for work since 2008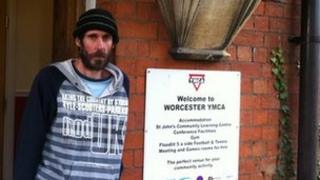 David Smith said he would go anywhere for work after losing his job and being made homeless in an accident three years ago.
"I was working on a farm in Ledbury in Herefordshire, cutting a tree down and it landed on me - I was stuck under it for four hours and it damaged my back.
"I was off work through ill health for a while and lost my job and the accommodation that came with it and ended up coming to Worcester as a homeless person," said 44-year-old Mr Smith.
He initially found support through Worcester's night shelter and has been staying at the YMCA for six months while he looks for work.
He said: "They helped get me into private accommodation but I couldn't afford the rent so ended up back at the YMCA.
"It makes me pretty upset - I'd worked all my life until I lost my job and haven't got anywhere through doing it.
"It's really difficult at the moment, there doesn't seem to be much about and that seems to be nationwide but I would move, I would go anywhere for work."
Waiting lists
Mr Smith also said he thinks more could be done to help homeless people in the city and that the problem is getting worse.
Last year, 815 homeless people accessed Worcestershire County Council's support services compared to 772 in the same period two years before.
The winter night shelter in Worcester city centre is run at the YMCA but is opening two weeks early to cope with demand.
Housing manager Angie Rich said there was a waiting list for the facility that offers long term accommodation for up to 74 homeless people.
She said: "The number of people who are referred is increasing on a day-by-day basis and I think St Paul's hostel and Maggs Day Centre are expecting that to increase over the cold months."
Mr Smith is one of an increasing number of people who are being made homeless as a result of a worsening economic situation, according to the charity Crisis.
The most recent figures from the charity showed that 1,768 people in England were sleeping rough on any one night.
Katharine Sacks-Jones, who is head of policy, said: "I think what we're starting to see after years of declining numbers is homelessness in all its forms starting to rise again.
"The year 2010 marked the turning point - what we're seeing is the impact of the economic downturn so people are losing their job or having their hours reduced.
"People are really struggling to hold on to their homes so it has a direct impact in that sense."
Ms Sacks-Jones said the charity was worried the problem was likely to worsen.
"We think this is just the start really [because of] some of the decisions and policy changes around cuts to housing benefit and changes to social housing.
"People who find themselves losing their jobs will find that the safety net there was is much weaker and we're likely to see far more people becoming homeless."