Worcester's night shelter for homeless opens early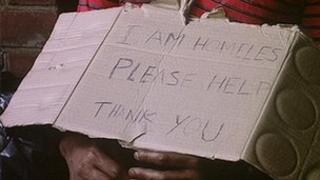 A night shelter for homeless people in Worcestershire is opening two weeks earlier than usual to cope with the demand for places.
The shelter at the YMCA in Worcester is run by the St Paul's Hostel for the homeless.
The charity said it was seeing a rise in demand for the night shelter and for its long term accommodation.
Chief executive Chris Ashcroft said: "I think on average we are turning away two or three people a day."
He added: "We're seeing more people who you could describe as economically homeless - they've lost their jobs or had their houses repossessed and have got nowhere to go."
Staff from Worcester City Council working with St Paul's hostel and Worcester Community Housing counted the number of people sleeping rough in Worcester on 2 November.
The team searched through Shrub Hill, Lowesmoor, Worcester city centre, Diglis, St. John's and Pitchcroft, and found 17 rough sleepers.
'Waiting list'
In 2010 175 people used the Worcester night shelter in the four months it was open, according to the organisers.
The night shelter at the YMCA offers up to 20 homeless people a communal room they can sleep in, a hot meal, showers and a laundry.
The YMCA also offers long term accommodation for 74 homeless local young people and vulnerable adults.
Angie Rich, YMCA housing manager in Worcester, said: "The number of people who are referred to the YMCA for the longer term is increasing on a day-by-day basis.
"At the moment we've got a waiting list for people to come into the YMCA for long term stay, and I think St Paul's and Maggs Day Centre are expecting that to increase over the cold months."