Worcestershire Children in Need: Gnome record bid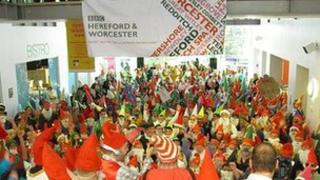 A Children in Need event in Worcestershire may have broken the world record for the most people in one place dressed as garden gnomes.
BBC Hereford & Worcester organised the record attempt at Malvern Theatres to raise money for the charity appeal.
The current record was set by 331 people in Canada. Official tellers at the Malvern event counted 478 people.
Officials from the Guinness Book of Records are now verifying whether a new world record has been set.
West Worcestershire MP Harriett Baldwin was one of the official counters for Guinness: "I am here verifying the verifiers and it's definitely part of the job description to be a gnome judge.
"There are some really amazing costumes here - I've met one chap who has made his beard out of the stuff left over in his tumble dryer."
Many local schools took part in the record attempt, with children and staff dressing up as gnomes.
Claire Smout, from Great Malvern Primary School, said: "We've had a very busy morning and we've brought years three and four.
"We've collected at school and we've collected from all the shoppers and shopkeepers in Barnards Green and we've got just over £200."