Worcestershire youth centre closure plans revealed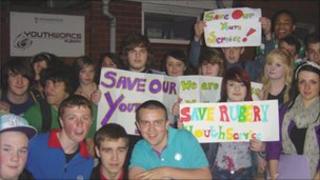 Thirteen youth centres across Worcestershire could be closed by the county council in order to save money.
Worcestershire County Council plans to sell off, rent out or close a number of the centres, saving £1.4m over the next three years.
Liz Eyre, from the Conservative-run council, said: "The bottom line is we're taking the building money and some of the management costs out."
The plans are due to be discussed at a meeting next Thursday, 24 November.
Under the proposals Kidderminster, Tenbury, Riverside, Bewdley, Droitwich, Redditch and Worcester youth centres could all close completely by 2014.
Other plans to save money include renting out centres in Arrowvale, Catshill, Kingsley, Spennels, Stourport and Woodrush to the local schools to be used by communities in the area.
Centres in Rubery, St John's and Evesham could stay open but be used as a library and community facility.
Ms Eyre said: "It's probably too soon to talk about individual examples around the county - [this] is a proposal that comes up with solutions and transition arrangements for each individual area.
"We're doing very well in terms of the proposals for the future to end up with arrangements which that will be sustainable and fit the needs of young people in areas."
In February the council said it needed to save £70m over the next four years.