NFU and Badger Trust join forces over bovine tuberculosis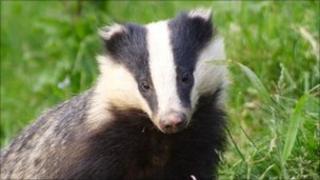 Badger groups and the NFU are working together for the first time to fight bovine tuberculosis (bTB).
They are testing whether injectable vaccination of badgers is practical and cost effective.
Farms in Shropshire and Derbyshire are taking part in the trial.
John Royle, from the NFU, said it was working with the Badger Trust "despite having differing views on the degree to which badgers are implicated in the transmission of bovine tuberculosis".
Two members of the NFU and five members of groups affiliated to the Badger Trust will work together on the study which will run until the end of November and then restart in March 2012.
Other trials run by Defra have looked at how effective the vaccine is at preventing badgers spreading bTB to cattle.
This trial will look at practical issues like the cost of training volunteers to trap the badgers and the cost of the traps and other equipment used.
Trapping costs
A spokesman for the Badger Trust said: "You can't just lasso a badger and stick a needle in it."
The Defra course that teaches volunteers how to safely trap badgers, and grants a year-long licence to do so, costs about £400 per person, according to the Badger Trust.
The traps they use cost £80 each, and the vaccine given has to be kept refrigerated until it is injected, with portable refrigerators costing £450 each.
Simon Boulter, from the Badger Trust, said: "We hope that with the use of volunteers to help with the work of surveying, trap-setting and pre-baiting, we can successfully implement an effective badger vaccination programme."
Badger groups in Oxfordshire and Warwickshire are among those closely involved in the trial.
The NFU and the Badger Trust said they would continue to encourage research and development into an orally-delivered badger vaccine.