SAS Operation Squatter: First mission a failure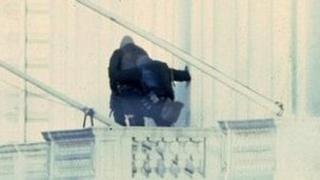 The SAS carried out its first mission 70 years ago on 16 November 1941, attacking enemy airfields in Libya.
The special forces unit was the brainchild of David Stirling, who was a lieutenant in the Scots Guards and part of the Allied forces fighting Rommel's Afrika Korps.
Author Tony Geraghty, who wrote the book Who Dares Wins about the SAS, said that during that period of the war the German's had overwhelming air superiority in North Africa.
He said: "Stirling came up with the bright idea that if he were to attack the airfields involved he could paralyse the German air power in that quarter."
Lt Stirling convinced his superiors that small teams of specially trained soldiers could be dropped by parachute behind enemy lines to destroy enemy aircraft and supplies.
'Demolition material'
The new unit was called the detachment of the Special Air Service Brigade, to deceive the enemy into thinking that they belonged to a much larger airborne unit.
Unfortunately their first mission, codenamed Operation Squatter, was carried out in a strong gale and heavy rain.
One of the aircraft carrying the SAS men was shot down - all 15 soldiers and the crew were killed.
The official report on the mission records that the remaining SAS men were "widely dispersed and demolition material soaked".
The mission failed to destroy a single enemy aircraft.
Of the 65 SAS men who took part only 22 made it back, after trekking through the desert on foot for 36 hours to reach their rendezvous.
Lt Stirling, knowing that failure would mean the end of the special forces unit, sent his remaining troops back to the airfields by land in December using jeeps, where they destroyed more than 60 planes.
The SAS was disbanded at the end of WWII, but reformed as a territorial unit in 1947 and the regiment was formally added to the Army list in 1952.
The regiment has been based at Hereford since 1960, and their original barracks was named Stirling Lines, after its founder.