Brother unveils B-24 bomber crew memorial at Burghill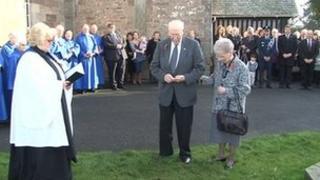 The brother of a man who died when a US bomber crashed during World War II in Herefordshire has unveiled a memorial.
George Reseigh, 83, travelled from America for a service remembering his brother Douglas, who died aged 20 when the B-24 Liberator crashed at Burghill in 1944.
Ten people died in the incident during a training exercise.
The plaque was dedicated at the Remembrance Day service at St Mary's church, Burghill.
It is in the churchyard next to an existing war memorial.
Mr Reseigh and his brother were born in Detroit, Michigan.
He said: "The people around here have just been wonderful in every way possible to make us feel so much a part of this area."
The plaque lists the names of the men who died in the crash on 18 August 1944.