Gnome record attempt in Malvern for Children in Need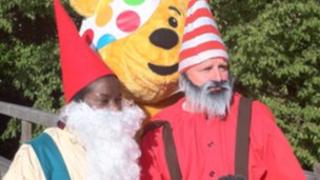 People in Worcestershire are being offered the chance to take part in a world record attempt by dressing up as gnome.
BBC Hereford & Worcester are behind the bid to create the largest gathering of people dressed as garden gnomes in order to raise money for Children in Need (CiN).
The event, called Gnome Time, will take place in the foyer of Malvern Theatres at 12:30 GMT on Friday 18 November.
To break the current Guinness World Record, more than 331 people, dressed in suitable attire, need to gather en masse for a minimum of 10 minutes. The record, held by Bayview Glen Day Camp in Canada, was set earlier this year.
BBC Hereford & Worcester presenters Howard Bentham and Toni McDonald will be taking part in Gnome Time which was the idea of colleague Mandi Harris.
Ms Harris said: "Gnome Time was inspired by Whickers, the breakfast gnome, who has been spending his year travelling around the globe in listeners' suitcases.
"I wanted to do something gnome related for CiN so started looking at records we could break."
A full male gnome costume consists of the following:
Collared shirt and vest or brightly-coloured tunic and belt
Beard
Pointed hat
Boots
A full female gnome costume consists of the following:
Solid-coloured or patterned dress with apron or shirt and skirt with suspenders
Pointed hat
Boots
Children under the age of 16 attending on the day must be accompanied by either a parent or by a teacher if they are in a school group. All those taking part are asked to donate £1 for CiN, which can be paid on the day.
For more details contact Mandi Harris on 01905 748485.