Ombersley's St Andrew's Church's silver coin secret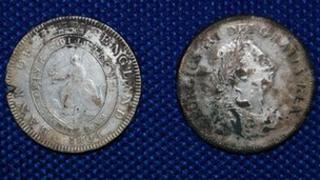 Two Georgian silver coins have been found hidden at the top of a church tower in Worcestershire.
Stonemasons working on the tower of St Andrew's Church, Ombersley, found the two large coins buried deep in the masonry.
The coins bear the inscription "Bank of England 1804 Five Shilling Dollar".
Stonemason Brad Steel, who found the coins, said: "When the coins were put into the building it would have been quite a chunk of the mason's wages."
He added: "We do leave coins in masonry for other masons to find - the surprising thing about these coins is the value of them."
The coins had been carefully placed in a circular socket in a buttress 80ft (24m) up the church tower.
Churchwarden Robert Thornton said the coins have an interesting history: "They were originally Spanish coins that were looted by this country and held in the Bank of England, and in 1804 they were re-issued in response to a shortage of high-value coins."
They will now be put on display in the church.
Mr Steel intends to continue the stonemason's tradition of putting coins in their finished work, once the restoration of the church is complete.
"I'm going to replace them with new coins with the 2011 date on them but I won't signify where those are.
"We keep it a secret and, hopefully in another couple of hundred years, another mason will find those."