Bromsgrove police, fire and ambulance station planned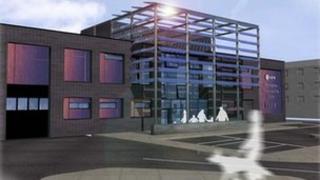 A combined emergency services station has been planned for north Worcestershire.
The new police and fire station in Bromsgrove will also incorporate an ambulance response post.
The development will replace both the police and fire stations currently in Bromsgrove.
West Mercia Police believe the project, designed to cut costs, is "the first of its kind" in the country. If approved, building would start next summer.
Head of the state services department at the police, Jim Stobie, said: "[They] are expensive to run and will incur increasing costs to maintain as time goes on.
"By sharing common facilities, the cost of the new building will reduce by 20%.
"Nationally it will be the first of its kind and may eventually be replicated across the country."
Bromsgrove District Council is expected to fully approve the development which is due to be built on a derelict site in Slideslow Drive, which is currently owned by North East Worcestershire College.
It is anticipated that the building work would begin in the summer of 2012 and take around a year to complete.