Sir Ian Botham pays tribute at Graham Dilley memorial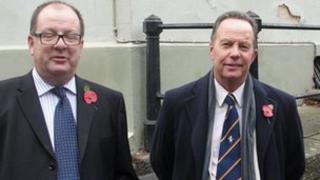 A memorial service in Worcester Cathedral to former England cricketer Graham Dilley has heard his former county and international colleague Sir Ian Botham call it "a great send-off for a great guy".
More than 250 people attended the service for the former Worcestershire and Kent fast bowler, who had been ill with cancer.
They included Rob Walter, a member of Dartford Cricket Club, in Kent, who played alongside Dilley when he was just 11.
"It's a great honour to look back and think that I played with this guy who went on and played for England so many times - it was a must for me to come here today and celebrate his life," he said.
His brother Ken said: "I have a personal connection in that in the short time he spent as a diamond cutter in Hatton Garden, before he became a professional cricketer, he got the wedding ring for my wife and I, which we still have today."
Second cousin Steve Smith remembered Dilley's natural talent as a schoolboy.
"We used to go to Dartford Heath and they used to take the cricket stuff with them, but I used to take a football because I knew I'd be bowled out first ball," he said.
Gifted coach
Famous cricketers paying their respects included Mike Gatting, Freddie Flintoff and Ashley Giles.
Tributes were given during the service by Chris Tavaré, who played alongside Dilley for Kent and England, and Gordon Lord, who played with him at Worcestershire.
Mr Lord spoke of Dilley's career as a coach after he had stopped playing, and his "remarkable ability to understand what people were thinking and feeling".
He said: "He had an uncanny ability to see what people could be."
Dilley had spells as England assistant coach and England women's bowling coach before becoming head cricket coach at Loughborough University.
He played 41 Test matches and 36 one-day internationals, taking 138 Test wickets.
His biggest impact came with the bat in the famous battle with Australia at Headingley 30 years ago.
His contribution of 56 to a 117-run partnership with Ian Botham helped England to an improbable 18-run victory after the home side had looked almost certain to lose.
He had helped Worcestershire to win the County Championship twice in his six years at New Road.