Bromyard community paramedics the first in Herefordshire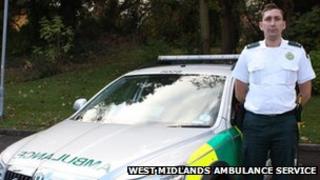 The first team of community paramedics has begun working in Herefordshire as the ambulance service looks to sell its stations in the county's market towns.
West Midlands Ambulance Service said the savings made by selling their existing stations would be invested in front-line services.
The six paramedics will provide 24-hour cover in the Bromyard area.
Their role will be to treat patients locally who would otherwise have been taken to A&E by ambulance.
Community paramedic Paul John said: "We can now treat things like minor wounds and cuts ourselves without having to take the patient to hospital in Hereford."
As part of their training the community paramedics worked at Hereford County Hospital's A&E department, the Herefordshire GP Access Centre at Asda in Belmont, Hereford, or with the county's out-of-hours GPs.
They will work with GPs and district nurses in the town.
Dr David Houston, from the Nunwell Surgery in Bromyard, said: "I firmly believe that the public's expectation of an ambulance taking every patient to A&E should be a thing of the past."
West Midlands Ambulance Service plans to introduce community paramedics right across the county.
Mr John said: "Based on our experiences we will be able to share with other towns what does and doesn't work for us.
"It is nice to know that we can help influence how the scheme would work in the rest of the county."
The community paramedics will also look at what care patients need in the long term.
Community paramedic Simon Burrows said: "It is a 'holistic' view - not just treating what you see, but also looking at the causes behind it.
"We look at preventative medicine rather than just 'patching up' the patient and letting them go."