Severn Trent 'told family to sue neighbour' over water loss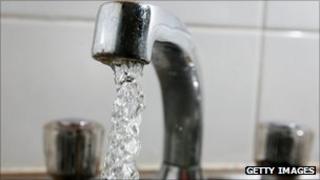 A Worcestershire family left without water have said they were told by their supplier to sue their neighbour.
Severn Trent told Paul Clarke, 44, from Barnt Green, they were not responsible for repairing the leak as it was on his neighbour's property.
Mr Clarke said: "My neighbour is a 78-year-old man who lives on his pension so I don't think taking legal action against him would benefit me at all."
The company has now connected a temporary supply to Mr Clarke's house.
Mr Clarke said: "Severn Trent came around last night and they've put a hose which runs from the leak into the tap on the side of our house - it's actually now feeding water into the house instead of out as a temporary measure, and they said they are going to look at it."
Legal action
In a statement, Severn Trent Water said: "Following investigation it turned out to be a leak on private property. Severn Trent is not responsible for repairing leaks on private supply pipes.
"If the leak was in the front garden we could give the customer a helping hand."
Mr Clarke first noticed that water pressure was falling in his house at the weekend and by Monday the father-of-two was left without any water.
He said he was unable to contact his neighbour who is away staying with relatives until the end of the week.
When he called the company's helpline Mr Clarke said he was told it was "not Severn Trent's problem" and that he should take legal action against his neighbour.
Severn Trent Water said in their statement: "Our repair teams don't have the skills to assess potential structural damage to a customer's home and as such the customer would need to have a specialist repair the leak."
Mr Clarke said: "The situation still remains that my neighbour has a big hole in his back garden and he's not going to be able to afford to do anything.
"If it hadn't been for the good will of someone coming around a nine o'clock last night to get us on a temporary water supply I don't know what we'd do."