Worcester MP Robin Walker says people value BBC local radio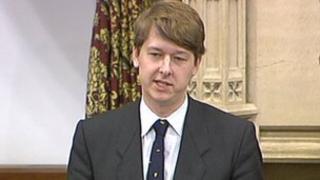 A Worcestershire MP, who called a debate over cuts to BBC local radio says many of his constituents value the service "very highly".
A total of 280 posts are under threat at local stations as part of the BBC's plan to reduce its budget by 20% over the next five years.
Sharing some programmes between stations has been proposed.
Worcester Conservative MP Robin Walker arranged for a debate in Westminster Hall.
'Lean organisations'
Mr Walker, who attended the debate on Wednesday, told the BBC: "When we look at local radio stations these are not fat organisations with a lot of layers of management.
"They tend to be lean organisations and so when you make cuts in those parts of the BBC you are cutting services very directly, and those are services that many of my constituents value very highly."
Another 100 jobs will go in regional current affairs, online, local weather and regional news.
The BBC licence fee of £145.50 was frozen in the government spending review last year until 2016-17.
In order to save a total of £27m across the English regions, local television news will have fewer bulletins and neighbouring regions will share current affairs programming.
A programme to be broadcast across England on local radio stations from 19:00 until 22:00 has been proposed under the plans.