Health Lottery 'detrimental' to hospice fundraising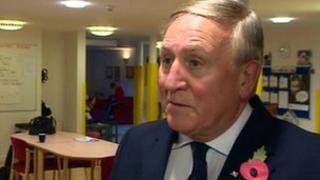 The chief executives of two Worcestershire hospices say they are worried about the impact the new Health Lottery will have on local fundraising.
The new lottery donates 20.34p per £1 ticket to charity, compared with 28p for every National Lottery ticket.
The Acorns Children's Hospice in Worcester runs its own lottery and fears sales will be affected.
But the trust which distributes cash from the Health Lottery said it was a valuable funding source.
The new lottery, run by the Northern & Shell media, the firm that owns Express newspapers and Channel 5, offers a top prize of up to £100,000.
As a society lottery, the draws will be exempt from the 12p in duty paid on each pound of National Lottery sales.
'Hugely greater'
But David Strudley, from the Acorns Children's Hospice said it own lottery generates more money.
"Our contention is, first of all, we are a genuinely local lottery," he said.
"It is a source of income to us that we vitally need - £70,000 a year.
"Thirdly, the amount of money that actually comes to us from our own lottery arrangements is hugely greater than is being offered to us by the Health Lottery."
Acorns runs its lottery in conjunction with St Richard's Hospice in Worcester which receives half the proceeds.
Mark Jackson, from the hospice, said: "They're only giving 20p in the pound to charity.
"The National Lottery gives 28p and pays 12p in the pound to the government. We pay 50p."
In a statement, the People's Health Trust which distributes money for the new lottery said it believed the money would be a valuable injection of funding for the charitable sector and did not believe it would be detrimental to existing hospice incomes.