Herefordshire and Shropshire churches deliver broadband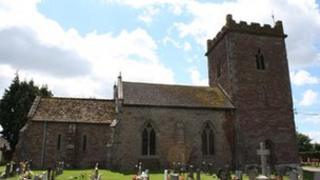 Hundreds of churches in Herefordshire and Shropshire could be used to improve access to broadband in rural areas.
The Hereford Diocese, which also covers south Shropshire, owns more than 400 churches.
Three of them have recently had antennae operated by Hereford-based company Allpay fitted on spires or towers.
It said more than 100 churches had expressed an interest in hosting wireless equipment.
Allpay said by putting line-of-sight radio antennae high on churches, broadband access could be delivered to some of the most hard-to-reach areas.
A trial was conducted at Kingstone Church earlier in the year, with Madley and Berghill also now fitted with the equipment.
Three more local churches have been approved and are due to be set up in the next few months.
About 50% of homes in rural Herefordshire only have access to the internet through dial-up.
'Win-win situation'
Anni Holden, spokeswoman for the Hereford Diocese, said: "The thing which dominates the countryside is church spires, towers and steeples.
"The church is at the centre of the community to serve the community and this is a small way in which the community could be served."
Participating churches receive £500 for hosting equipment, as well as free internet access.
Ms Holden described it as a "win-win situation" for churches and their communities.
She added that planning applications had to be approved by the diocese, but procedures had been streamlined.
"We are obviously custodians of a large number of grade-I and grade-II listed buildings, so it is always a concern when something is suggested that might change the appearance of those," she said.
"But we have taken a very forward-looking approach. Here we are using medieval buildings to deliver 21st Century technology."
Last year the government announced plans to provide every community in the country with access to super-fast broadband by 2015.
Those already online are being encouraged to share internet skills as part of a BBC campaign called Give An Hour.
In the last weekend in October, when the clocks go back, the BBC is challenging people to donate an hour to introduce someone to the internet.
It follows on from the First Click project, which encouraged about 500,000 people to get online for the first time.