Notes to benefit Worcester homeless centre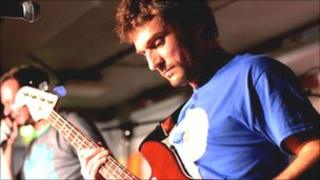 Musicians have raised more than £7,000 for a day centre for homeless people in Worcester.
About 300 acts performed for free at this year's Worcester Music Festival.
Now money raised from the event will be going to Maggs Day Centre in the city, where annual income of more than £70,000 has been lost, managers said.
The facility, in a former Norman church in Deansway, was founded in 1984 in memory of John Maggs, a homeless man in his 40s who was found dead in a derelict building near the city centre.
'Getting colder'
On average about 70 people use the centre daily between Sundays and Thursdays.
But acting manager Mel Kirk said it costs about £160,000 a year to run the centre, it went down from opening for six days a week to five and its undisclosed deficit was increasing.
She said: "I'm worried that we will have to close extra days.
"It would be catastrophic if we had to close any more days during the winter time because it's getting colder and we do serve the needs of the rough sleepers."
The centre was chosen as this year's music festival charity following news over lost funding.
Annual income totalling between £70,000 and £80,000 from Worcestershire PCT, the county council and the city council has gone, the acting manager added.
The centre went down from opening for seven hours to six in August, but had secured £25,000 a year from a Lloyds TSB grant-making trust, she said.
More than 30 venues played host to the music festival.
Pubs, clubs, cafes and historic buildings around or near the city centre were involved - and 70% of the acts were from Worcestershire.
About 700 acts usually apply for the event, which began in 2008 and is supported by a committee of volunteers.
Entry to the majority of venues was free, but local firms donated raffle prizes and volunteers collected donations throughout the event from 19 to 21 August.
'Difficult time'
Ms Kirk added: "It's just wonderful, it's just amazing.
"We are overjoyed at the generosity of festivalgoers and supporters. We provide more services than people might realise.
"We don't judge (people at the centre)... They're treated like anybody else would be.
"If it's not open, they're just wandering around lost with nothing to do.
"They say it's a safe environment for them. They can read the papers and keep up with what's happening in the world.
"The impact of closing for two days a week - it's very difficult to keep clean."
As well as being a centre for food, shelter, support, washing and laundry facilities, it provides free clothes, and bedding through the Maggs Clothing Project.
The facility aims to help those living on the streets, people at risk of homelessness, as well as those who are isolated, vulnerable or lonely.
Festival fundraising organiser Nikki Boraston said: "We had fantastic support this year and we only hope the money raised will give Maggs a bit more security during a difficult time, as well as providing funding for worthwhile projects.
"We are now looking for suggestions as to who should be next year's chosen charity."