Suspected burglar found shot and man arrested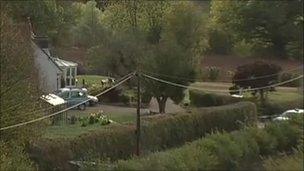 A man in his 60s has been arrested on suspicion of attempted murder after a suspected burglar was shot.
Police were called to Leigh Sinton, Worcestershire, on Wednesday. A man in his 20s was found with gunshot wounds.
The shooting is being linked to a burglary in Whitbourne, Herefordshire.
A man has been held on suspicion of attempted murder and the cultivation of controlled drugs. A cannabis cultivation operation was found at a property in Whitbourne.
Another man in his 20s was arrested on suspicion of burglary.
The shot man is being treated in Worcestershire Royal Hospital for gunshot wounds to his leg. He remains in a serious but stable condition.
He has not been arrested as medical procedures were being carried out, West Mercia Police said.
A woman in her 50s has been arrested on suspicion of cultivating controlled drugs.
Armed officers sealed off part of the village of Leigh Sinton overnight.
Det Supt Ivan Powell, of West Mercia Police, said: "One of our many lines of inquiry will be to establish where the shooting took place. We have nothing to suggest this occurred in Leigh Sinton.
"We also need to establish whether these three men were previously known to each other."
Neighbours have expressed their "absolute shock" at the incident but the police said there was no threat to people living in the area.
The A4103 Worcester to Hereford road has been closed between Leigh Sinton and Storridge.
Related Internet Links
The BBC is not responsible for the content of external sites.