Survivor Jacqueline Tanner: 'England needs Lancastria memorial'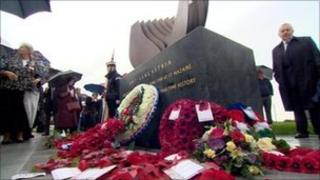 The youngest survivor of Britain's worst maritime disaster has called for a memorial in England to the victims.
About 5,000 people died when World War II ship Lancastria was bombed off the French coast in 1940.
Jacqueline Tanner, 73, from Malvern, Worcestershire, said she wanted to see somewhere in England for people to remember what had happened.
Her call came after ceremony in Scotland on Saturday to unveil a memorial to those who died.
The statue was built on the former site of a Clyde shipyard where a sunken ship was built.
Mrs Tanner, who was at the ceremony, said: "I'd like something in England too."
Last year, Mrs Tanner wrote to David Cameron asking him to recognise the disaster which happened as British servicemen and civilians were attempting to flee from Nazi troops.
She said the Clyde memorial was a "place where we can all come to remember".
She added: "It's a long way for me, and I'd like something in England too, but this is what we needed - it's part of our history."
In 2007, the Scottish government issued a commemorative medal marking the 400 Scots who died in the disaster.
Mrs Tanner had been living with her parents in Belgium when they had to flee the German invasion of France and the Low Countries in 1940.
They eventually made their way to St Nazaire in France and boarded the Lancastria, a transatlantic liner taking part in the rescue of the remaining British personnel and civilians in France after the Dunkirk evacuation two weeks before.
It was packed with around 9,000 troops and civilians but as it sailed from the port on 17 June it was hit by three bombs from a German Junkers 88.