Upton on Severn bridge colour chosen by public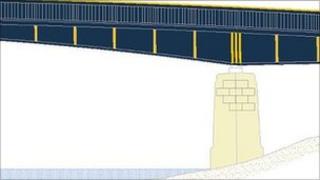 A public vote has been used to choose the colour that a Worcestershire bridge will be repainted.
The bridge at Upton upon Severn will be repainted in "duchess blue" and gold, following the outcome of the survey by Worcestershire County Council.
Work to repaint the bridge is due to be completed by December.
Residents were given the choice of five colours to choose from. A total of 669 voted for their favourite during the six-week public consultation.
The bridge will be resurfaced and waterproofed in the refurbishment work, which is due to start on Friday.
Councillor John Smith, from Worcestershire County Council said: "We wanted to give people the opportunity to tell us what they'd like this landmark to look like before refurbishment work starts."