Alpaca 'stolen' from Bewdley farm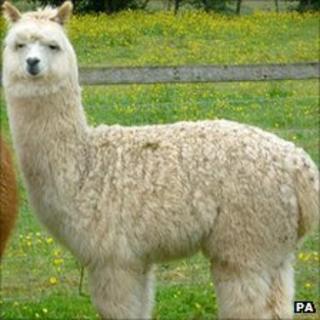 A one-year-old alpaca worth £1,500 is believed to have been stolen from a farm in Worcestershire.
Britney's owner initially thought she had run away from her farm in Bewdley, scared off by a low flying helicopter.
But a resident reported seeing flashlights when she went missing between 16 and 19 September and police now suspect the herd animal was stolen.
Britney is described as being about 3ft (1m) high at the shoulder and has a white fleece.
A spokesman for West Mercia Police said: "Even if she had managed to get out of the secure garden they don't think she would have gone any further for fear of straying too far from the herd."
Alpacas scare easily and can die if they become separated from their herd, police said.