Boy returns to school as a girl in Worcestershire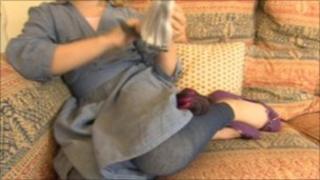 The mother of a 10-year-old boy who has returned to a Worcestershire school dressed as a girl says the school has been very supportive.
The child has been diagnosed with gender dysphoria, a condition where a person feels they are trapped in the wrong body.
The mother said her child was called a freak before the decision was taken but said school staff had been helpful.
The child said she was scared about returning but also excited.
Her mother said her child is not too young to have taken the decision over the summer to return to school dressed as a girl.
"She has been our daughter from the age of two-and-a-half really," she said.
She said she had played with girl's toys since she was young.
"It was utterly natural.
"She just grew up the years and we just knew that this was the way she was.
"She chose the stereotypical girl's toys so if you put a truck in front of her she would not want to play with that she would want to play with a Barbie."
The child said: "Mum was buying me boys clothes but whenever I went over to my friend's house, I always used to dress up in her clothes and get her make up on.
"It was nice."
The child's mother said she hoped people would stop calling her child a freak but felt people did not understand.
"She was called a freak long before she went back to school as a girl," she added.
"They will never understand, I don't expect them too... I just don't want them to call my daughter a freak.
"This is a child and you live with it and you accept your child no matter what."
In a statement released by Worcestershire County Council, the school's head teacher said: "Our school operates an inclusive policy and works hard to ensure all our pupils have the support they need.
"As part of this, we feel it is important to encourage discussion and promote understanding.
"As a school, we strive to make sure that all our children get the most possible out of their time here and a key part of this is helping pupils understand that all their peers are unique.
"We have very low incidents of bullying and this is in part thanks to our policy of equality and diversity."