Hundreds of Hare Krishna devotees expected at Croome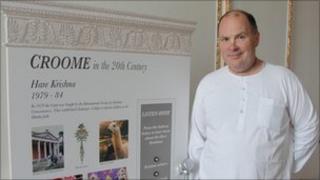 A Hare Krishna festival is taking place at Worcestershire's Croome Court for the first time.
Hundreds of followers are expected to arrive at the National Trust property near Kempsey over the August bank holiday weekend.
The estate was the group's UK headquarters and training college from 1979 to 1984.
Tribhangananda das is the festival organiser: "It's a great opportunity to revive local interest here.
"It's not just to showcase the Hare Krishna movement - we're inviting people from the area to really get to grips with what we're doing and have a fun day out."
He was part of a group of 25 Hare Krishna devotees who ran the estate but had to leave due to financial pressures in 1984.
Tribhangananda das joined the Hare Krishna movement aged 17 and later spent a great deal of time at the estate: "I was living in Malvern but used to come over to the temple nearly every day."
'Part of Croome's history'
The festival will include dance, drama, theatre, music, free food and talks about the group's historical connections to Croome.
Suki Talwar is the outreach officer for Croome: "The festival is all about celebrating the time that they were here as well as the movement itself - it's an important part of Croome's history."
According to Mr Telwar, the weekend is the first event of its kind to be hosted at a National Trust property and is designed to attract a wider range of visitors.
He said: "We're hoping to attract hundreds of people from diverse backgrounds and we're aiming to aiming to make it an annual event."