Powick flood defence construction work begins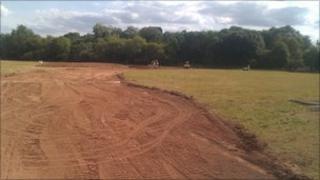 Work has started on a £765,000 flood defence scheme to protect a Worcestershire village.
The defences around Powick, just outside Worcester, include a 1.8m (6ft) high embankment and a culvert to control floodwater.
Twenty one properties in the area were flooded in July 2007.
Beverley Brown, from the Environment Agency, said: "The work we will carry out will significantly reduce flood risk in the future."
Floods in the Powick area have made the A449, a major trunk road in the area, impassable.
The new embankment will link high ground to the embankment that carries the A449 across the floodplain.
The agency said the new defences would be able to cope with the surface water from up to 25mm (1in) of rainfall.
The project is being paid for through local levy funding, with contributions from Worcestershire County Council's highways department, the Powick Parish Council and village fundraising activities.