Batmobile mobility scooter raises money for charity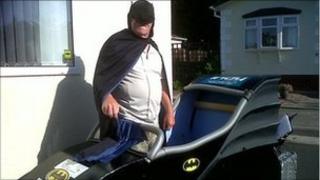 A pensioner has converted his mobility scooter into the Batmobile to raise money for charity.
Brian Vann, 74, from Evesham, Worcestershire, was looking for a novel way of raising money for Cancer Research.
He said so many people in cars now slow down to look he was having to go out with an escort.
"My neighbour goes with me as an escort with a sign on his back which reads 'Slow - Batmobile ahead'," he said.
He raises money through donations and sponsorship.
The wooden frame of the Batmobile is very heavy and it takes two people to lift it on and off the scooter.
Mr Vann is already planning his next project - a replica of Lady Penelope's pink Rolls-Royce from the Thunderbirds TV series.
He said he was planning to make this replica out of aluminium as it will be much lighter and "easier to handle".