University of Worcester gets 100 new scholarships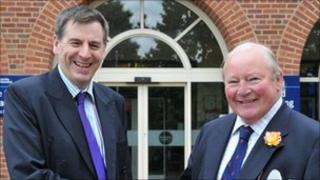 A Herefordshire philanthropist has funded 100 scholarships for new students joining the University of Worcester in September 2012.
The Clive Richards Scholarships will be worth £1,000 each and will be awarded to students based on their first year's academic performance.
Mr Richards is an entrepreneur and private venture capitalist in a wide range of industries.
The Clive Richards Charity specialises in helping educational establishments.
It has sponsored the majority of Hereford high schools to obtain specialist school status and supported various other public and private educational facilities.
'Positive contribution'
Mr Richards said: "Education in all its forms, from primary school to university degrees, is key to the UK's success in the 21st Century.
"I am delighted to be part of the drive to deliver this and give the opportunity to these students."
Mr Richards is a Fellow of the University of Worcester.
Professor David Green, University of Worcester Vice-Chancellor, said: "This is a most generous donation from Clive Richards.
"Clive is well known for his passionate support for education. We are delighted that Clive has chosen to help support our future students with these valuable merit-based scholarships.
"We are very grateful that Clive has decided to invest in the future of our students who will go on to make a very positive contribution to society."