South Worcestershire housing plans propose 20,000 new homes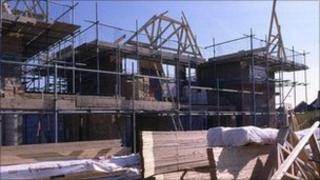 Plans have been unveiled showing where 20,000 new homes are to be built in South Worcestershire by 2030.
Malvern Hills District Council, Worcester City Council and Wychavon District Council have jointly produced the proposals.
The South Worcestershire Development Plan also looks at transport needs and how to create new jobs in the area.
The councils will discuss the plans before an eight-week public consultation starts in September.
City outskirts
Within Worcester city 4,500 homes will be built, mainly on brownfield sites.
More than 4,000 additional houses are planned on the outskirts of the city with the plans containing a provision for 40% of the homes to be affordable housing.
'Vibrant towns'
Within the main towns of Droitwich Spa, Evesham and Pershore, sites have been identified for 899 houses to be built.
Paul Middlebrough, leader of Wychavon District Council, said: "In preparing these proposals our priority has always been to balance the protection of Wychavon's vibrant market towns and sustainable villages with the need for stimulation and protection of our economy."
Malvern Hills District Council said the available supply of brownfield and other acceptable sites within Malvern, Upton-upon-Severn and Tenbury Wells is extremely small.
As a consequence the council is planning to build 174 new homes within Malvern on small sites, with a further 250 houses on the QinetiQ site.
A new development at Newland will see 700 new homes being built.
Flooding problems at Tenbury Wells mean that only 30 additional houses are planned in the town with 50 dwellings planned at Holly Green in Upton-upon-Severn.
Philip Grove, leader of Malvern Hills District Council, said: "I think there are always going to be people who are unhappy about development but everyone knows that Malvern needs to grow, they know that we need the skills for the future."