Hereford livestock market moves after 150 years on same site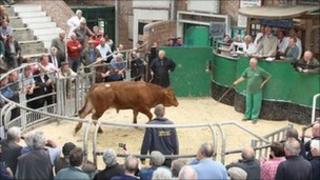 A city centre livestock market is moving after operating at the same site for more than 150 years.
Hereford livestock market is moving to allow the site around Edgar Street to be redeveloped.
The new custom-built market at Stretton Sugwas, on the outskirts of the city, will host its first auctions next Wednesday.
Some businesses who trade on the site are unhappy about the compensation they have been offered to move.
Carleton Davies, managing director of Bearings Belts & Sprockets, has found new premises but said the compensation on offer would not cover the cost of his move.
"My accountant has told me the move will cost me around £30,000 and my compensation is £5,700," he said.
Easier access
The council said it had been working with businesses on the site for some time, offering advice, support and funding.
"We understand the challenges of moving and we have supported and advised as much as we can, however this move will not have come as a surprise as this has been talked about for many years," a spokesman said.
"Ultimately the development will bring more than 1,000 new jobs to the county."
The other businesses on the site have been given until August to move.
Director of the market Richard Hyde said the move meant an end to the congestion problems at the old site on market days.
"The parking, unloading and congestion will be relieved and customers will have a much easier job getting in and out," he said.
Market manager Mike Evans said the challenge was to recreate the atmosphere of the old market site.
"It really is a character site, and we're going to try and take that with us - if we can get it in a bottle we will," he said.
The former leader of Herefordshire Council Roger Phillips said: "This is where as a child I came with my father and then when I was farming I brought stock here, so it's a day of mixed emotions to be honest."