Presteigne soldier's name added to war memorial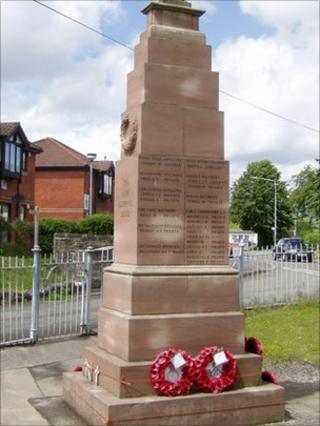 A World War I soldier from Herefordshire has been honoured in his home town 96 years after his death.
Pte Robert Vaughan fought with the King's Shropshire Light Infantry and was killed in action in France in 1915.
His great-niece Deborah Last said the family wanted her great-uncle to receive recognition for his services.
She said: "I know where Uncle Robert's name is resting and it is nice that I can say to the family, 'if you go to Presteigne you will see his name'."
Pte Vaughan was born in Presteigne in 1877 before his family moved to Hereford where he joined the King's Shropshire Light Infantry.
Mrs Last found Pte Vaughan's name was not on any war memorial in the UK.
She said: "I decided to get on to the internet to see what I could find out, but in the meantime dad jumped in and said his uncle was missing as well - his name was Ernie Tipton so I was looking for both of them.
"Robert Vaughan was killed on Hill 60 after only a month but Ernie Tipton lasted longer as he was killed in 1917 - it took me longer to find out where he was as he died of wounds in hospital," she added.
There is a plaque in memory of Ernie Tipton in Bayston Hill Church, Shropshire, but no memorial at all to Robert Vaughan.
Mrs Last enlisted the help of Clive Blakeway, chairman of Shropshire War Memorials Association.
He said: "We gathered more information and after Mrs Last approved everything we had done I asked her if she would mind if I gave it to Presteigne's council to see if they would consider adding his name on to the memorial."
The Mayor of Presteigne John Kendall said the council had been only too happy to meet with the family's request.
"I am very pleased that we have been able to do this for the family of this man who seemed to have been forgotten from our war memorial.
"I guess that in the chaos of the time there must have been some people who were forgotten but then you only to have to think about how many people were killed every day in that awful war."